Tour FAQ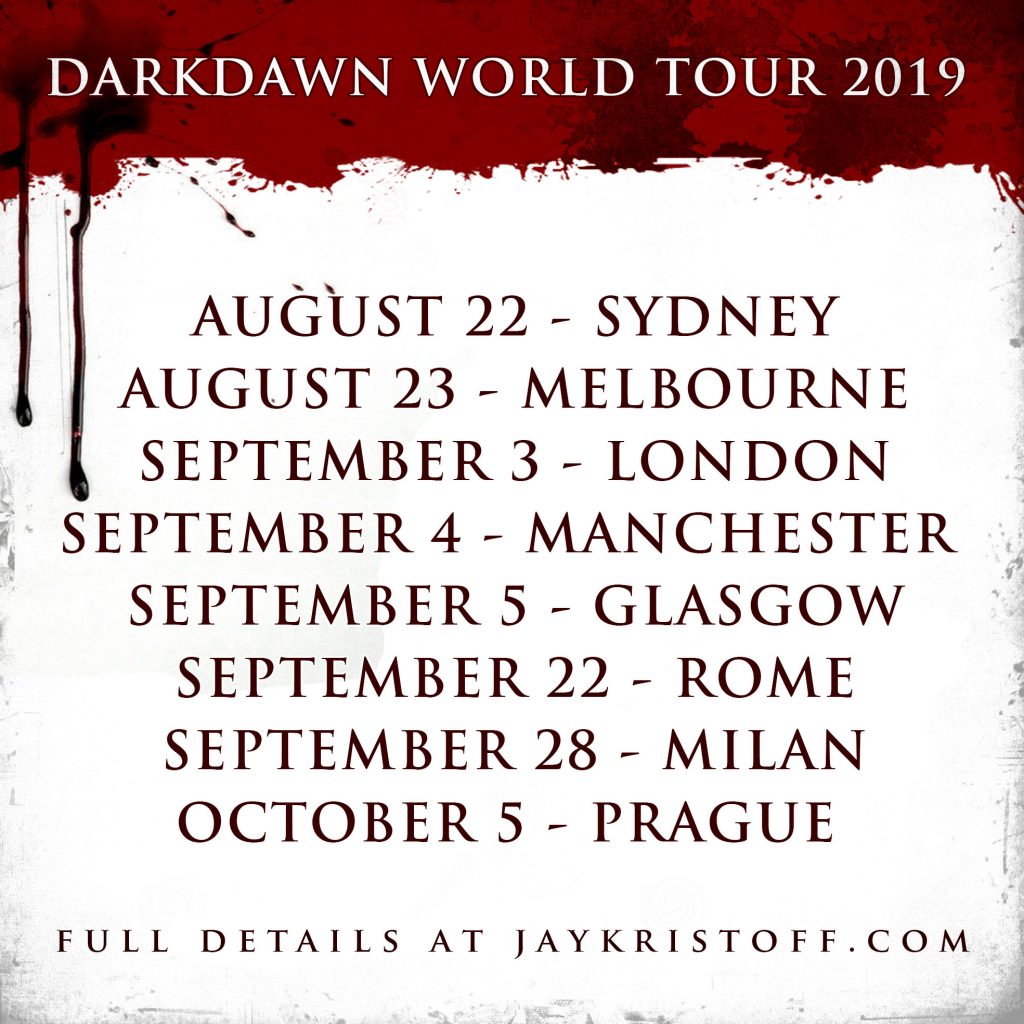 Hello droogs! Along with Sydney and Melbourne, London, Manchester, Glasgow and Prague stops for the DARKDAWN tour are sold out (and I suspect Rome and Milan would be too, but we're not taking bookings – more about that below). Which is awesome! But, that means I'm going to be seeing a lot of people over the next month, so it's time for a FAQ.
How many books can I bring to your tour stop?
As many as you like! However, in the interest of keeping the line moving, each time you visit the front of the line, you'll be limited to 3 books (2 signed, plus 1 signed and personalised).
Wait, does that mean we can line up multiple times on the night?
Yes. You can line up as many times as you like. This way, if you're a hardcore disciple with an entire back catalogue for me to sign (thank you!) you can get them all signed, but you won't be holding up the person behind you who only brought 1 copy (thank you, too!)
Sorry about this, but some lines on the OBSIDIO tour lasted for five hours, and that's just too long to make people line up for. Trust me, meeting me IRL isn't that fucking impressive.
How does the signing line work?
Depends on the venue/store. Some lines are ticketed/numbered, sometimes it's chaos on the scale of The Purge – please follow directions on the night.
However, I do have one rule: if you have mobility issues, a small child present with you (seldom a good idea), or more than a 2+ hour journey home, you can come to the front of the line.
I don't want anyone falling asleep at the wheel on the way home, I need you fuckers to pay for my lavish rock and roll lifestyle and dead readers don't buy books.
Do we need to buy books at these tour events, or can we bring our own copies from home?
You can always bring my backlist to events, and I'm always happy to sign them and very grateful for the support you give to my ongoing cocaine addiction. 
It's nice to support the bookstore hosting me by purchasing a copy on the night, but I understand some of you have pre-ordered already (thank you!) so feel free to bring those along too.
When in doubt about details on individual events, it's always best to contact the bookstore.
What if we can't make these events but we want a signed book?
You can contact one of the bookstores I'm touring at to order a signed and ask for a personalised copy.
Will you please sign my [insert name of body part here]?
Alas, no. I'm an author, not a member of Mötley Crüe. ?
Can we get a photo with you?
Sure! There will be someone at each event handling camera duties. Do me a favor and tell me if I have some dinner left in my beard though.
I made you a Thing! Can I bring the Thing and give it to you?
Yes you can, and you're fucking awesome! 
However, just bear in mind I'm probably flying out from your city the next day, so don't give me anything that will get me arrested. 
Please mark the Thing with your name/instagram handle so I can tag you! I like to say thanks, but my memory is shite, so sticking your name somewhere will guarantee I get to the tell the world how cool you are.
What's happening with the Italian events? I'm worried I'm going to miss out!?
Ticketing details are still being worked out for Italy – please contact @oscarvault on instagram with your questions. I'm not sure of details either atm! But, I'm really looking forward to seeing you all, miei amici!

---
9 Responses to "Tour FAQ"