EMPIRE OF THE VAMPIRE US cover giveaway
Drrrroogs,
The Year of the Vampire continues! Just as the internet recovers from the server-melting carnage you wrought upon it over the last couple of weeks (those poor bastards at Waterstones had no idea what was coming), we have another treat, drenched in the sweet, gamey tang of innocent blood :
The US Cover for EMPIRE OF THE VAMPIRE is live at tor.com !

I've been working with the amazing Jason Chan for almost ten years now – his artwork graced the US cover of my very first book, and he never fails to top himself. Huge props to the incredible Meg Morley too, for her amazing chops in all matters typographical. Much gratis must also go to my publishers at St Martin's Press for indulging my innate need to control every part of the fucking design process. I'm sure their studio crew are burning me in effigy as we speak.
SO! In celebration of this splendiferous US cover, I have three more EMPIRE OF THE VAMPIRE ARCs to give away! Yes, you read right – in addition to the ones I gave away for the UK cover reveal, there are three MORE up for grabs!

There's also some extreme levels of fuuuuuucking coolness going on with the US EotV ARCs, which I can't quite talk about yet. But trust me, you will flip your shit when you hear about it.
So, if you'd like a chance to win one, read on.

YES, THE ENTIRE THING. AGAIN. STANDARD PONY RULES APPLY.
THIS CONTEST IS OPEN INTERNATIONALLY. MORLOCKS. THOSE WHO LIVE BEYOND THE WALL. RESIDENTS OF THE LAND OF MORDOR WHERE THE SHADOWS LIE. I CARE NOT WHICH BENIGHTED PIT THOU DOST NAME THY HOME.
Each of you will be given two chances to enter. Yes, this means you can enter twice. Indeed, thou art encouraged to do so.

In order to enter:
Tweet about the cover reveal. You must include a link to this site and the hashtag #eotv (so I can find it). Other than that, do what thou wilt. Just like last time, if your tweet is cool or creative, I'll mark you down for extra entries. If you wanna recycle your old meme with the new cover, that's cool too. Though people were kinda chopping other people's ideas last contest, so originality will help 🙂

Of course, if you wanna just ride the train to slackertown and pray to RNG Jesus, here's a sample tweet:

The US cover of EMPIRE OF THE VAMPIRE is live! Behold it in all its bloody glory and win an ARC here:
jaykristoff.com/news/
#eotv

Post the cover artwork onto your instagram, twitter or facebook feed. You must include the hashtag #eotv (otherwise I won't see it)
 
That's it. Two ways to enter. Enter twice, double your chances of winning. Get creative, you increase your chances even further! Simplicity itself!

This contest closes on February 14.
 
And now, the cover!
From holy cup comes holy light;
The faithful hands sets world aright.
And in the Seven Martyrs' sight,
Mere man shall end this endless night.
It has been twenty-seven long years since the last sunrise. For nearly three decades, vampires have waged war against humanity; building their eternal empire even as they tear down our own. Now, only a few tiny sparks of light endure in a sea of darkness.
Gabriel de León is a silversaint: a member of a holy brotherhood dedicated to defending realm and church from the creatures of the night. But even the Silver Order couldn't stem the tide once daylight failed us, and now, only Gabriel remains.
Imprisoned by the very monsters he vowed to destroy, the last silversaint is forced to tell his story. A story of legendary battles and forbidden love, of faith lost and friendships won, of the Wars of the Blood and the Forever King and the quest for humanity's last remaining hope:
The Holy Grail.
From the New York Times bestselling author of the Nevernight Chronicle, Jay Kristoff, comes the first illustrated volume of an astonishing new dark fantasy saga.
Behold the bloody awesome: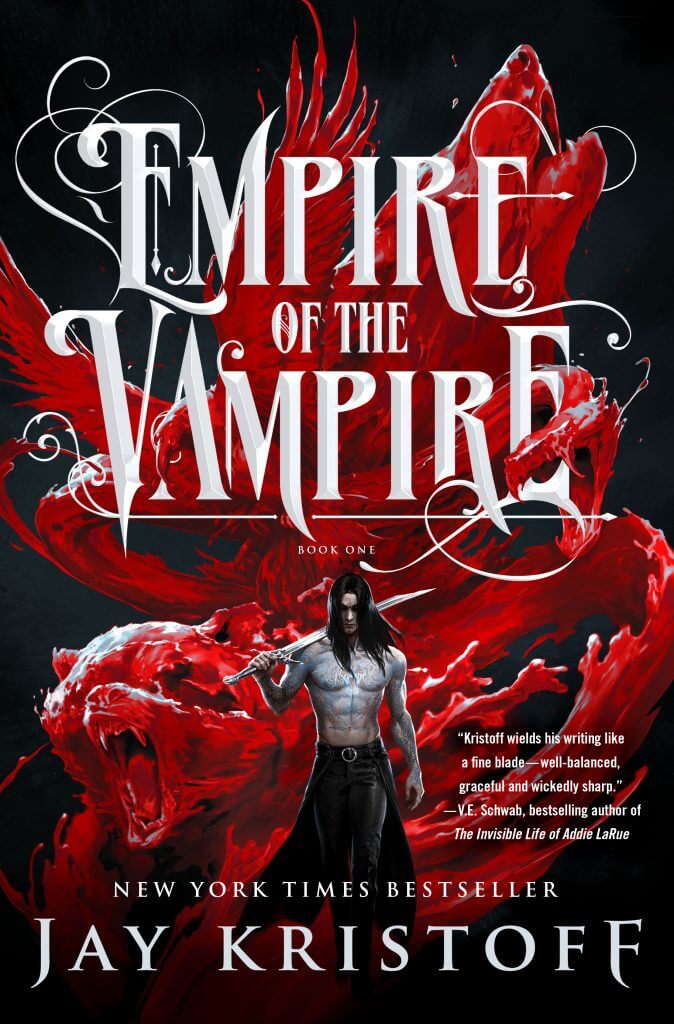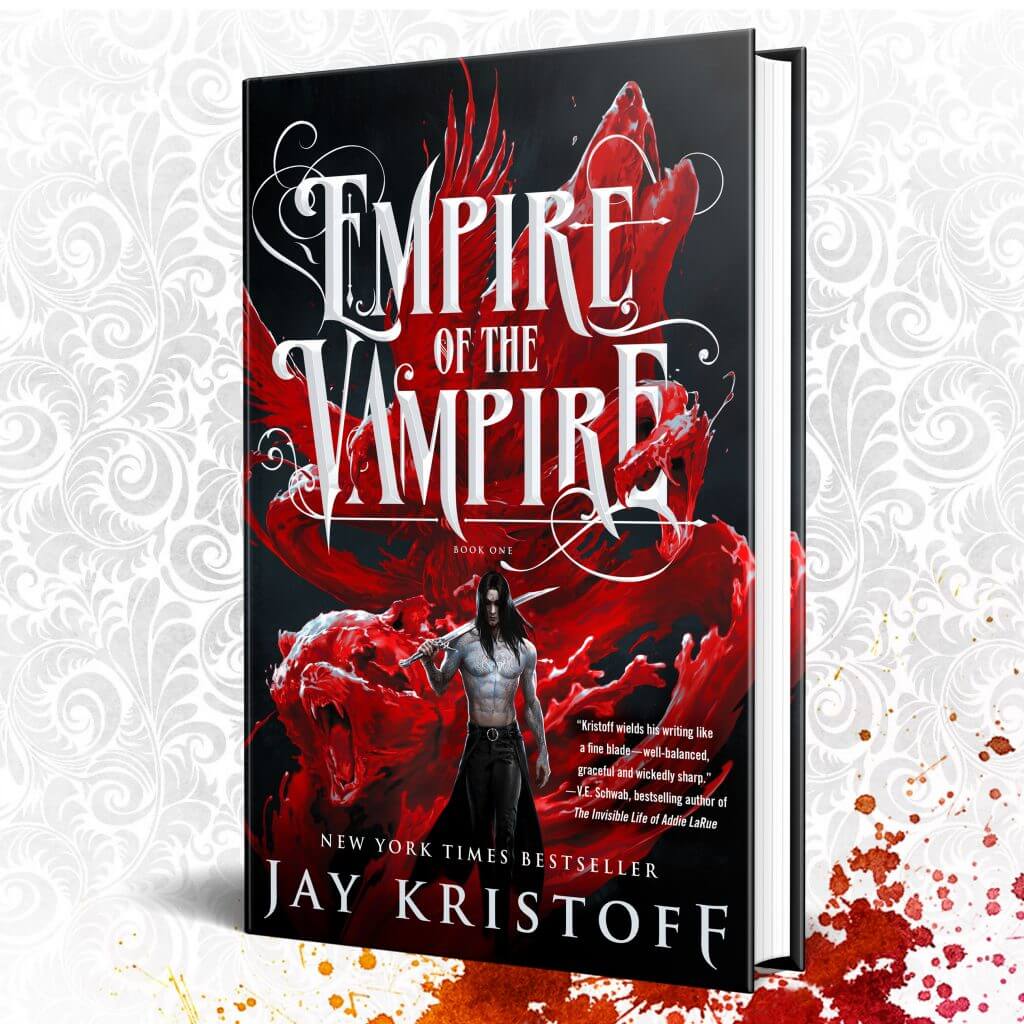 Preorders are now open from all US retailers! Remember that each preorder of the US edition will be signed by yours truly.
If you're confused about which edition you're ordering, the correct ISBN for the US edition is as follows:

ISBN: 1250245281
More special editions, illustrator reveal and a bunch more exciting EotV news coming soon!

DRINK BLOOD. WEAR BLACK.
---
8 Responses to "EMPIRE OF THE VAMPIRE US cover giveaway"