AURORA RISING TOUR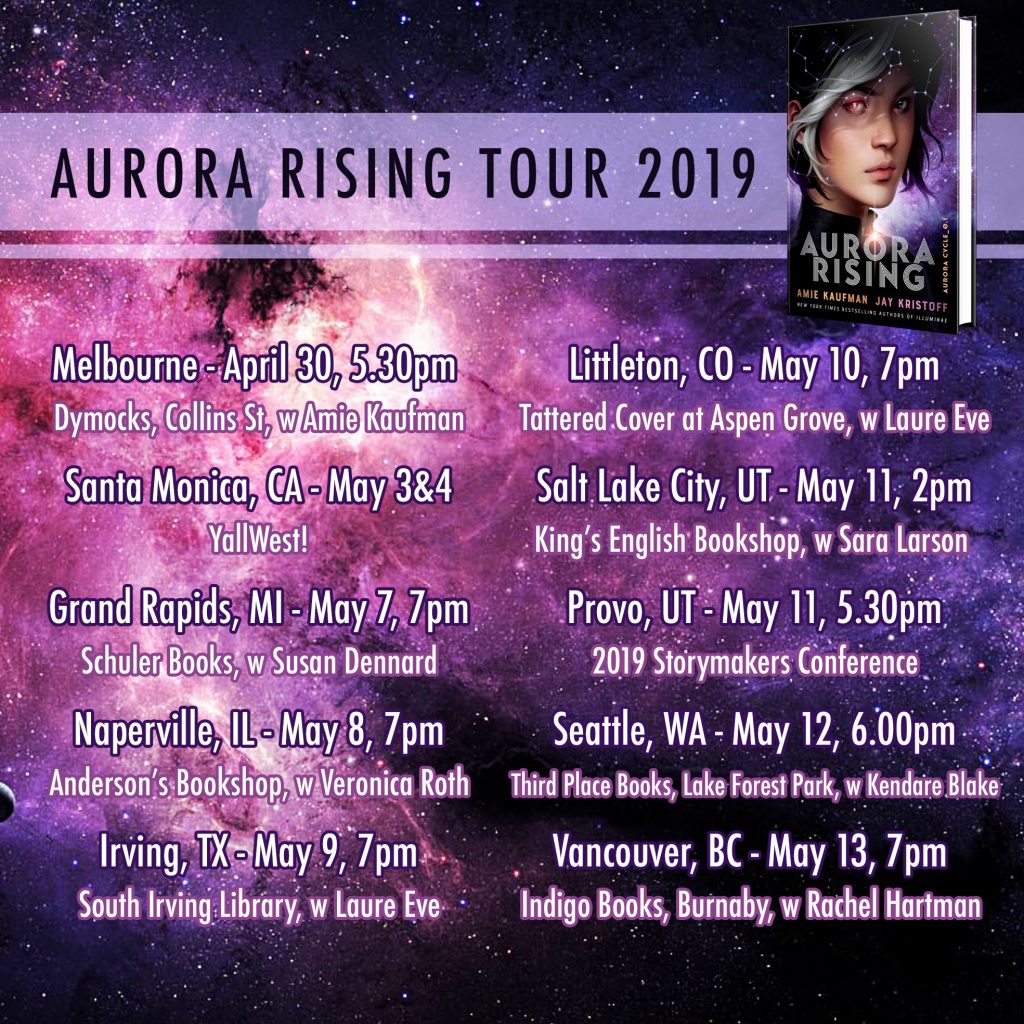 Hello droogs! After we launch AURORA RISING in Melbourne on April 30, I'm heading off to the US and Canada for a national tour! You can find the details over at the TOR website or check the dates and FAQ below:
Melbourne
Tuesday, April 30, 5.30pm
Launch and signing with Amie Kaufman
Dymocks, Collins St
Santa Monica, CA
Friday, May 3 – Saturday, May 4
Panels and Signings
Yallwest
Grand Rapids, MI
Tuesday, May 7th at 7:00 PM
Launch Event with Susan Dennard (Bloodwitch)
Schuler Books
Naperville, IL
Wednesday, May 8th at 7:00 PM
In-Conversation Event with Veronica Roth (Divergent series)
Anderson's Bookshop
Irving, TX
Thursday, May 9th at 7:00 PM
In-Conversation Event with Laure Eve (The Curses)
South Irving Library
Littleton, CO
Friday, May 10th at 7:00 PM
In-Conversation Event with Laure Eve (The Curses) and Len Vlahos (Life in a Fishbowl)
Tattered Cover at Aspen Grove
Salt Lake City, UT
Saturday, May 11th at 2:00 PM
Book Talk with Sara Larson, Q&A, and Signing
The King's English Bookshop
Provo, UT
Saturday, May 11th at 5:30 PM
Signing
2019 Storymakers Conference
Lake Forest Park, WA
Sunday, May 12th at 6:00 PM
In-Conversation Event with Kendare Blake (Three Dark Crowns series)
Third Place Books
Burnaby, BC
Monday, May 13th at 7:00 PM
In-Conversation Event with Rachel Hartman (Tess of the Road)
Indigo Books
FAQ
Your Melbourne launches are usually packed, do we need to book?
Nope, bookings aren't required for the Melbourne launch, just show up to the chaos. The line is traditionally pretty big, though, so don't be late.
AURORA RISING doesn't launch in the US until May 7th, but YallWest is on the 3rd. Does this mean LA misses out?
No! As an American exclusive, the booksellers at YallWest will be offering AURORA RISING four whole days before the official US launch. So YallWesters will actually get their hands on the book earlier than the rest of the country.
Lucky bitches.
Do we need to buy books at these tour events, or can we bring our own copies from home?
You can always bring our backlist to events, and we're always happy to sign them and very grateful for the support <3
It's nice to support the bookstore hosting me by purchasing a copy of AURORA RISING on the night, but we understand some of you have pre-ordered already (thank you!) so feel free to bring those along too.
When in doubt about details on individual events, it's always best to contact the bookstore.
What if we can't make these events but we want a signed book?
You can contact one of the bookstores I'm touring at to order a signed and personalized copy.
How many books can we bring to these events?
As many as you like. All will be signed, but to avoid you folks having to line up for an eternity, only one will be personalized.
Sorry about that, but some lines on the OBSIDIO tour lasted for five hours, and that's just too long to make people line up for. Trust me, meeting me isn't that fucking impressive.
Will you please sign my [insert name of body part here]?
Alas, no. I'm an author, not a member of Mötley Crüe. 🙂
Can we get a photo with you?
Sure! There will be someone at each event handling camera duties.
I made you a Thing! Can I bring the Thing and give it to you?
Yes you can, and you are awesome!
However, just bear in mind I'm probably flying out from your city the next day, so don't give me anything that will get me arrested.
Please mark the Thing with your name/instagram handle so I can tag you! I like to say thanks, but my memory is shite, so sticking your name somewhere will guarantee I get to the tell the world how cool you are.
And I travel with carry on luggage only, so large quantities of liquid (ie booze) while appreciated, will get confiscated by the TSA.
Bastards.
How will Amie be signing the books? Won't she be in Australia creating a tiny human?
Yes, considering that the baby is due the week AURORA RISING comes out, Amie will only be attending the Melbourne signing.
BUT, I will have two stamps with me, one with Amie's signature (and it looks awesome), and one with an IOU from Amie that she can sign later. You can see both options below: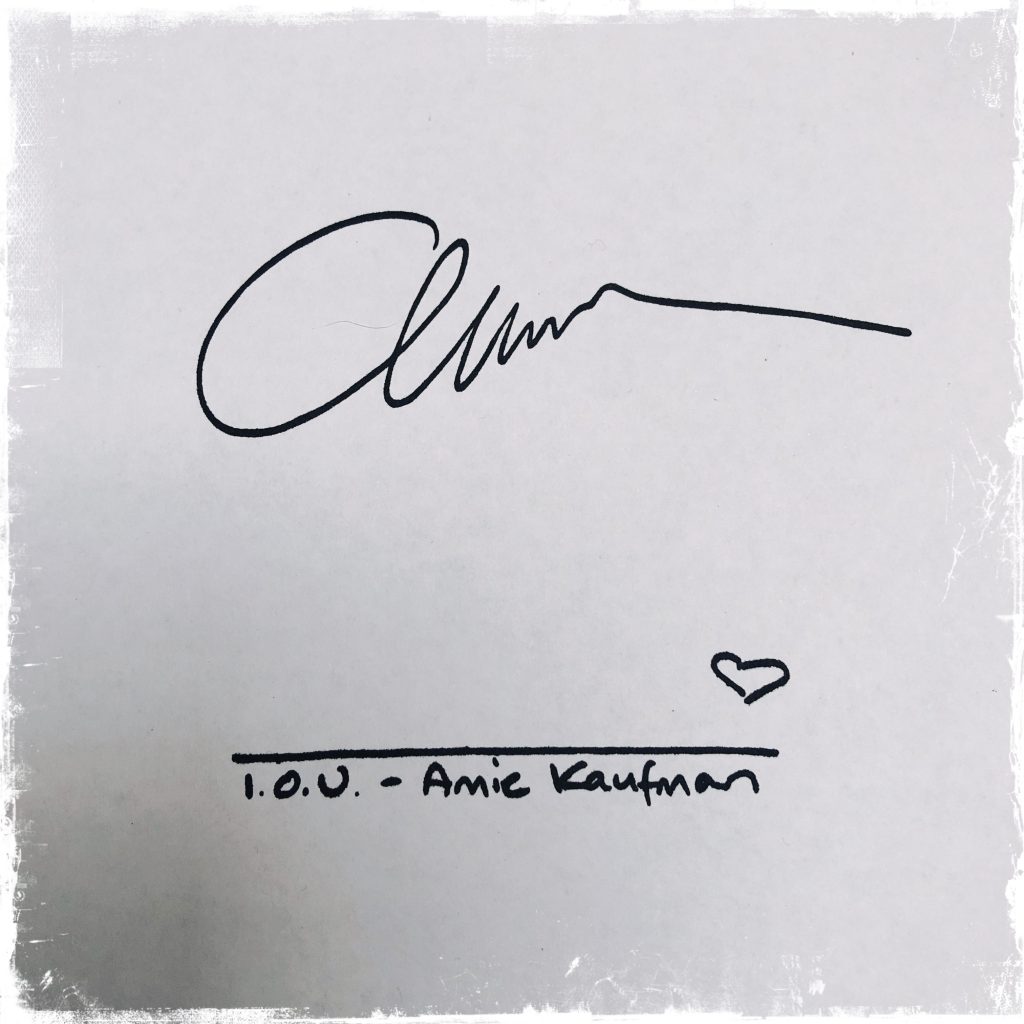 Looks legit, right? But, the choice will be up to you!
That's all you need to know, droogs! This is my very first tour without Amie, and my first time in the big bad States by myself, and my first EVER trip to Canada, so you folks better come out and say hello!
Hope to see you on the road!
---
4 Responses to "AURORA RISING TOUR"